---
I-LYA Sailors use Yachtmen's Fund Challenge Grants to Stay Sharp
Jensen Beach, FL.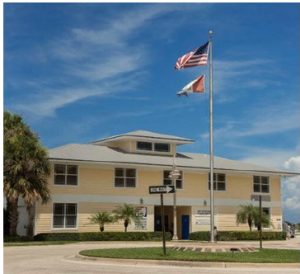 The 2019 C420 Midwinters took place at the US Sailing Center Martin County (USSCMC) near Jensen Beach Florida, February 16-18. In early December 2018, the USSCMC also hosted US Sailing Junior Olympics for C420 teams. Both regattas were wellrun, attracted top sailors and should be on the radar of all I-LYA C420 racers looking for wintertime warm weather sailing. Former Leatherlips sailor Ryan Clarke is the Sailing Director at USSCMC and he is happy to help in advance or when you get to sunny Florida. Ryan coordinates 100 volunteers for an event like Midwinters, stands ready for breakdowns, and lends a hand when needed. The 103-boat fleet at the 2019 Club 420 Midwinters was made up of high school and college-aged sailors of not more than 22 years of age. The February event boasted 80 degree temperatures in warm water and a range of 6-18 knots of breeze over the three day regatta. The first two days were a qualifying round, where the fleet was divided into two and seeded by a formula. The final day was a medal round with 52 boats in a gold fleet and 51 boats sailing in silver.
Playing the shifts was key throughout Midwinters, in chop and wind similar to Lake Erie and our inland lakes. Day one brought shifty and puffy conditions throughout the racing, while the second day of the qualifying round started light but built for the final two races. The third day of medal racing started off light, but the filling sea breeze made for an exciting end to the event. I -LYA junior sailors Grace Squires and Michaela O'Donnell placed second in the silver fleet and brought home a trophy. It takes a village: and David Hein, now attending Jacksonville University, was on-hand for a practice the day before racing and coached the Ohio girls during the very competitive regatta.
The USSCMC has a great line-up of PROs keeping racing strong and fair. Launching from sandy beaches on the beautiful grounds of the USSCMC should be in the plans of your next va-gatta (VAcation- ReGATTA)!
Top 5 – Gold Fleet
Boyd Bragg/Ryan Wahba (Christchurch)
Colleen O'Brien/Michaela O'Brien (Bay Head YC)
Jordan Bruce/Andrea Reifkohl (CCS/AYC)
Rayne Duff/Savannah Young (St. Thomas YC)
Luke Arnone/Nathan Smith (CCS/CYC)
Top 5 – Silver Fleet
Thomas Erisman/Griffin Pollis (Encinal YC)
Grace Squires/Michaela O'Donnell (Hoover SC)
Nat Edmonds/Isaiah Farr (Wianno YC)
Lily Flack/Braedon Hansen (Mudratz)
Daniel Erisman/Devon Kurisu (Encinal YC)
---
I-LYA Sailors at Orange Bowl
Orange Bowl was Sara and Annie Schumann's first C420 regatta and Annie's first regatta overall. Sara, who has been actively racing optis for years with the assistance of Yachtsmen's Fund Challenge Team Grants has experience in many national and international events. The weather and ocean sailing in Florida did not disappoint. It was blowing 25 the first two days which was exciting for a featherweight team! The wind died down to 8-15 knots the last two days and the girls went 2, 1, 2, 7 and 3 to close out racing. They finished mid-fleet and 5th overall in the Silver Fleet. Proof that opti racing paid off for Sara and Annie, who focuses on lacrosse and field hockey, is a strong athlete who put her casual sailing background to good use. These twins from Cowan Lake Sailing Association are 10th graders at Indian Hills High School. We look forward to seeing them at some Traveler Series events this summer.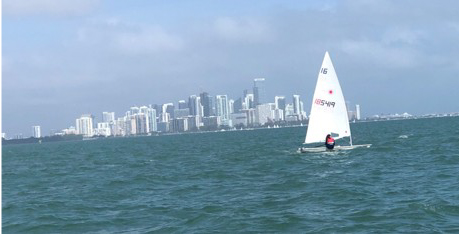 Vermillion sailor, AJ Kozaritz, attended Orange Bowl a few years ago, but wasn't happy with his performance. He asked to go back this Christmas and despite big winds, AJ started and finished every race with a best finish of 6th in the Laser Full fleet.