A Note from Our President:
Thank you to all the clubs and Fund members who responded so promptly to our January mailing. We look forward to hearing from more of you as the snow melts and boats are launched. 2018 promises to be an exciting year as I-LYA hosts three US Sailing National Championships: Junior Women's Doublehanded for the Ida Lewis Trophy at Mentor Harbor Yachting Club in July, Chubb US Junior Championships for the Sears Cup and Bemis and Smythe Trophies at North Cape Yacht Club in August, and the US Team Racing Championship for the Hinman Trophy at The Foundry in Cleveland in September.
Requests for support from the Yachtsmen's Fund increase alongside the growth of sailing and focus on powerboat education in our area. Please take a minute to look around our website – you can donate online, download a membership form, or read about what we do. Follow us on twitter @YachtsmensFund. If you need to contact us, email us at yachtsmensfund@gmail.com.
Thank you again to our annual members, Life Members, and all the Clubs who participate in our Dollar-per-Member Program. Your support makes our work possible. I look forward to seeing all of you at the Spring Meeting!
Monica Bloomstine
President-Yachtsmen's Fund
---
Gifts to Educate, Challenge, and Inspire the Next Generation!
Recent Memorial Gifts
In Memory of Bill Wells and Mary Wells from Dick and Betty Bliss
---
Jamie Jones of Hoover Sailing Club Recognized by US Sailing as an Outstanding Organizational Leader
On February 1, 2018, I-LYA's own Jamie Jones was recognized by US Sailing as an Outstanding Organizational Leader at an awards reception held as part of the Sailing Leadership Forum in St. Pete Beach, Florida. Each year, US Sailing recognizes those who have made a significant contribution to our sport with a variety of Community Sailing and National One-Design Awards. Jamie is certainly deserving of national recognition. Among the many hats Jamie wears: Program Director of LTS at Hoover, US Sailing Certified Instructor (since the 80's), Principal Race Officer, US Sailing Area E Training Coordinator, Area E Junior Championship Representative, certified STEM Educator, accredited OHSAA High School Sports Coach, member of the US Sailing Community Sailing Committee, husband, and father. Below is a picture of Jamie at the awards and his write-up from the US Sailing website.
Jamie Jones – Outstanding Organizational Leader
Jamie Jones (Westerville, Ohio) is a true leader in his support of the development and operations of sailing instruction programs, especially at his home club. Comprised of individuals and families, the Hoover Sailing Club in Westerville, Ohio has over 200 members. Jones increased enrollment in the Club's youth sailing programs from 160 in 2010 to 430 in 2017, while the adult program has expanded from 50 students to 156. Jones played a major role in starting the Ohio High School Sailing program, which now boasts 16 MISSA-recognized teams. In 2017, the Hoover Sailing Club had 60 active sailors from eight schools, along with another 50 youth who came out to try the sport; these numbers reflect half of the teams in the state. He has bestowed the gift of sailing to thousands of individuals, thus empowering them to reach their greatest potential. Jones is a great volunteer and organizational leader who has significantly increased access to sailing in the Midwest.
---
I-LYA Juniors Compete at Midwinters in Florida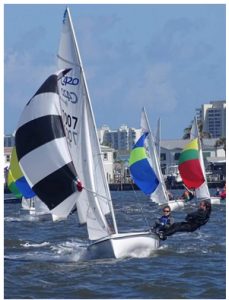 The 2018 C420 Midwinter Regatta was held February 17-19th at the beautiful US Sailing Center Martin County, Florida. I-LYA junior sailors included Clare Elden (Vermilion BC), Michaela O'Donnell (Vermilion BC) and Grace Squires (Hoover SC). Detroit juniors (Crescent Sail YC) included Max Klaasen steering with Shay Gualdoni, Johnny Walton skippering with Drew Clutterbuck. Johnny and Drew sailed very well finishing 23rd out of 75 boats. Clare and her skipper, Gannon Troutman, sailing for Christchurch School, finished well with several great races in the VERY competitive fleet finishing just ahead of Grace and Michaela. Several upper mid-fleet finishes by our I-LYA girls were impressive considering the high level of competition against advanced racers who aged-out at 22 years old.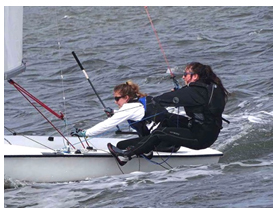 The US Sailing Center of Martin County located in Jensen Beach, Florida is an outstanding venue with good wind and beach launching. Their new Sailing Director is Ryan Clarke, who was a member at Leatherlips YC last year, and can be reached at 772-334-8085. Ryan offers helpful advice and support and encourages I-LYA folks to reach out.
115 miles south of Jensen Beach in Miami, the International 420 fleet also held their midwinters at the same time. Ian Moran (Edgewater YC) sailing with Ariel Casaretto, and Cameron Turner and Maxwell Uittimberga (Chautauqua YC) sailed very well in the 42 boat I420 fleet.