Locals Compete for US Women's Doublehanded Championship
Kathy Allyn, MYHC
On July 25 – 29, 2018, 40 teams of two young women, ages 13-18, from around the country competed in 420s for U.S. Sailing's 2018 Junior Women's Doublehanded Championship. Each year, this top tier regatta takes place at great racing venues around the country. This year, Mentor Harbor Yacht Club won the bid and ran the championship regatta with the teams of junior women competing for the coveted Ida Lewis Trophy. Three days of racing took place Friday through Sunday with two days of clinics preceding the regatta on Wednesday and Thursday led by a strong cast of coaches from around the country.
The MHYC regatta machine was orchestrated by Kathy Allyn who arranged meals and housing for the competitors along with fun social events and experiences throughout the week in the greater Cleveland area. Some events were made possible by the Inter-Lake Yachtsmen's Fund. Many of the young sailors from both coasts remarked how great Cleveland was and the I-LYA surely impressed them!
The competition was fierce with 25 Californians and the prevailing team who repeated their win from 2017. Of the 40 competing 420s, 2 of our I-LYA teams placed in the top half. Skipper Grace Squires and crew Michaela O'Donnell (Hoover SC) had several top 10 finishes and ended up 13th overall. Skipper Nadia Reynolds and crew Zoe Hoctor (Hoover SC) were 19th overall.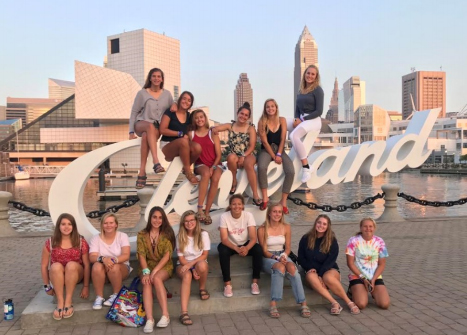 Skipper Grace Squires, who previously sailed in numerous Opti national and regional events, said a favorite memory from the regatta was seeing past Opti friends from around the country who have continued sailing at a high level: "It was great to still be able to compete with them." Grace was the 2016 I-LYA Traveler Series Opti Champion, followed by being the Traveler Series 420 Champion in 2017. Stay in those Optis and learn to sail them well as long as you can!
Crew Michaela O'Donnell said this was her favorite regatta because of the high level of competition with
sailors from all over the U.S. "The coaches taught us better sailing mixed with life lessons," Michaela said, along with, "hard work pays off and the winners showed consistency is key."
As part of the event, MHYC showcased their community to the sailors and their families. The young women
toured the Rock 'n Roll Hall of Fame followed by a dinner excursion in Cleveland. Sailors enjoyed post-sailing
activities throughout the week, including a Lake Erie beach luau, Shrimpfest, sunset yoga and an Italian
feast.
Parents were not allowed contact with their sailors during the regatta hours and outside coaching was not allowed. An impressive group of pro-coaches were led by US Sailing Championship head coach Richard Feeny. His coaches worked with the junior sailors all week including the clinics on Wednesday and Thursday:
Scott Ikle (Head Coach, Hobart and William Smith Colleges)
Beka Schiff (2016 Hobbs Trophy Winner – Sportsman of the Year)
Amanda Callahan (Head Coach, Roger Williams University)
Alana O'Reilly Marks (2006 Quantum ICSA Women's Sailor of the Year)
Dillon Paiva (Assistant Coach, US Naval Academy)
Brian Clancy (Head Coach, Cornell University)
Arielle Darrow (2020 Olympic Campaigner)
Everyone is so proud of the 14 I-LYA junior women sailors (pictured below) who represented our region at the US Junior Women's Doublehanded Championship for the Ida Lewis Trophy. They made us proud on and off the water! Emma Friedauer (Hoover SC) was the winner of the Sportsmanship award! The following clubs sent teams to participate: Hoover SC, Cleveland YC, Edgewater YC, Mentor Harbor YC and Put-In-Bay YC.
See a full description of the regatta and results at: https://www.regattatoolbox.com/results?eventID=GDw31YeJ8G
Kathy Allyn sends a huge thanks to Hoover's Jamie Jones for being the PRO, Sarah Hoctor and Shilah Griffeth for pitching in on the RC boat (and staying away from their girls all week per the rules!:), to the Foundry for lending boats and their smart sailing team, to CYC parents and Edgewater parents for housing and transporting teams, and of course to the MHYC members and friends who went above and beyond to house, transport, help with safety, RC, lend boats, provide entertainment and more, making this event spectacular!
Of course, our local sailors were supported by the Inter-Lake Yachtsmen's Fund which made their dreams possible. A big THANK YOU! from these young ladies.
The championship regatta is sure to have inspired these I-LYA girls to participate in the Ida Lewis and other national regattas in the future. Registration for the Ida Lewis championship always goes live on March 1, and if this year is a repeat, it will fill up quickly! So keep an eye on ussailing.org for more information.
Special Thanks to All the Local and National Ida Lewis Sponsors:
The Inter-Lake Yachtsmen's Fund
Mentor Harbor Youth Sailing Foundation
Edgewater Youth Sailing Foundation
North Coast Women's Sailing Association
Quantum Sails Cleveland
Zim Sailing
National Sponsors – Gill and the Clagett Trust